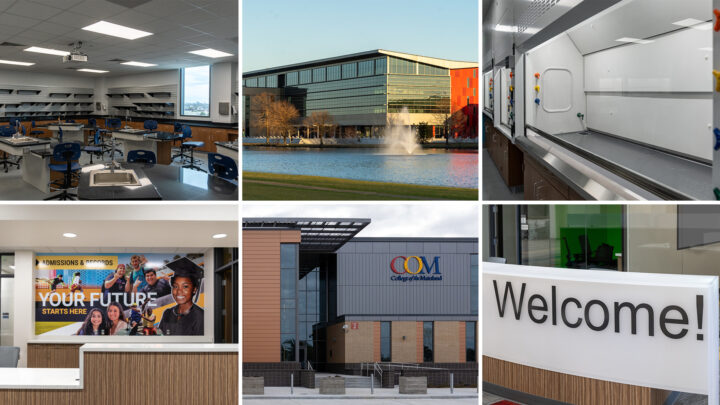 Laying the Foundation for the Future
College of the Mainland is making room for the future, and that vision is clear as we usher in a number of new and upgraded learning spaces to better serve the growing needs of our students and community. Offering state-of-the-art technology and instructional areas for students, explore a few of our newest facilities projects.
Science, Technology, Arts, Engineering and Math (STEAM)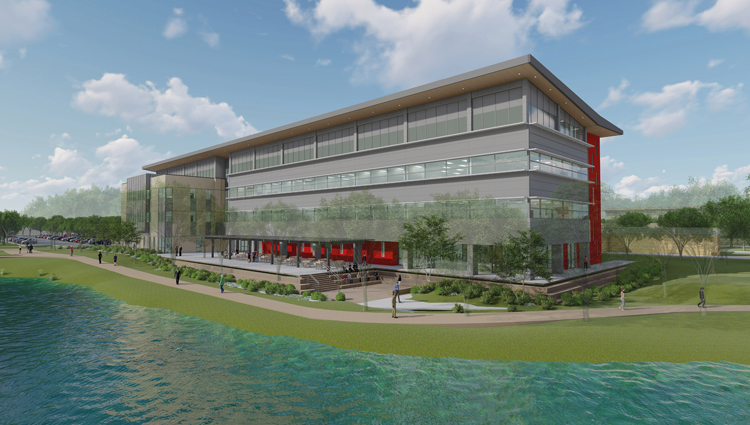 With new businesses and industries moving in, the need for skilled workers is on a steady rise. COM is responding to that demand in a major way through our new state-of-the-art Science, Technology, Engineering, Arts and Mathematics (STEAM) building. The building will offer an innovative and dynamic learning and training environment that is attractive and responsive to local industry and workforce needs.
Groundbreaking
Opening
Quick Facts
Roughly 70 feet tall
168,723 square feet
Four stories
24 classrooms
28 labs
Nine student areas
Programs Housed
Nursing
Allied Health
Chemical Engineering and Mechanical Engineering
Surgical Technician
Dental Hygiene
Radiological Technician
Lab Assistant
Special Features
Nursing Simulation Lab with 10 individual Simulation Rooms
Psychiatric "Day Room" Simulation Lab
Two Computer Labs for Testing
100-Person Lecture Classroom
Student Lounge and Study/Collaboration Spaces
Expanded Cybersecurity Networking Lab
Audio/Video Lab
Upgraded Science Labs
Administration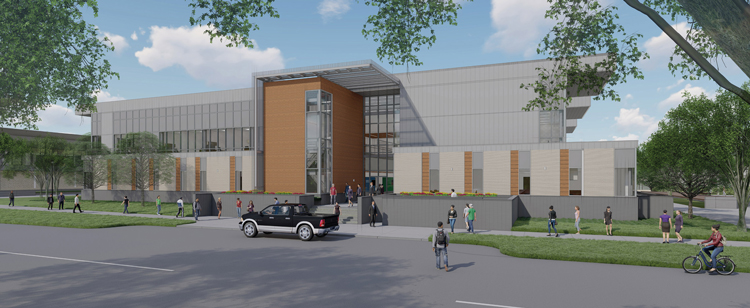 With a sharp focus on providing a comprehensive network of services to support a successful college journey, COM's new Administration building will serve as a centralized one-stop resource center to cater to all student needs from start to finish.
Groundbreaking
Opening
Quick Facts
63,257 square feet
Two stories
84 offices
Programs Housed
Admissions
Financial Aid
Help Center
Student Success
College Connections
Veterans' Center
Testing Services
Student Engagement
Special Features
Multipurpose Conference Center
Central Atrium Student Lounge
Board of Trustees Meeting Room
Industrial Careers Building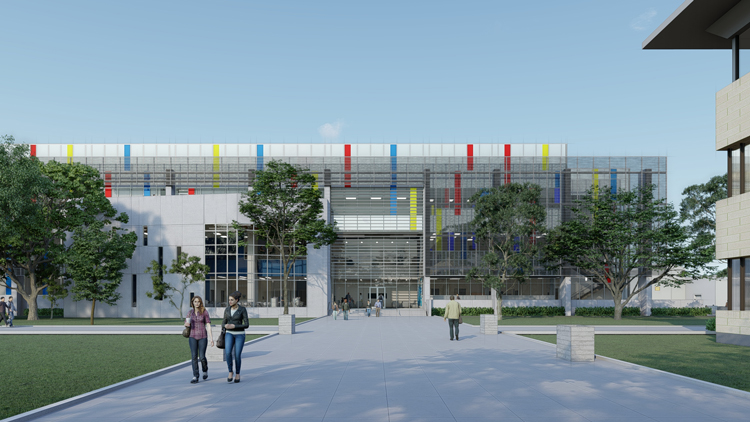 COM's Process Technology (PTECH) program – the first of its kind in the country – will be able to expand in the new Industrial Careers Building. Space in the 90,000 square-foot building will also be allotted for the relocation of the Gulf Coast Safety Institute as well as the Occupational Hygiene and Safety Technician and HVAC (heating, ventilation and air conditioning) programs.
Groundbreaking
Opening
Quick Facts
90,264 square feet
Three stories
20 classrooms
Programs Housed
Process Technology (PTECH)
Gulf Coast Safety Institute
Heating, Ventilation and Air-Conditioning (HVAC)
Occupational Safety and Health Technology (OSHT)
Special Features
Expanded PTECH Lab Spaces
Campus Data Center
Educational Technology Suite
COM League City – NOW OPEN

The League City facility will allow the college to further its student reach across its service area as the League City region maintains an increasingly strong presence at COM. The facility will offer an accessible and convenient option for students residing in that region while also addressing the steady growth in the area.
Quick Facts
27,250+ square feet
10 classrooms
Conveniently located near Interstate 45
Programs Housed
Accelerated Associate of Arts Degree
Dual Credit
General Education Classes
Occupational Safety and Health Technology (OSHT)
Special Features
Study/Collaboration Spaces
Student Lounge
Wet Lab for Biology Instruction
Testing Center
Computer Lab
With the exception of the COM League City facility, all the buildings are funded by the 2018 $162.5 million general obligation bond.
---
Upcoming Events
Join us for a community-wide celebration of our new facilities at our main Texas City campus!
Friday, April 30, 2021
2 p.m. – Ribbon Cutting and Groundbreaking Ceremonial Presentation
3 p.m. – Public Tours for Community
Location
STEAM Building
1200 N. Amburn Road
Texas City, Texas 77591
Parking Lot F, Building 22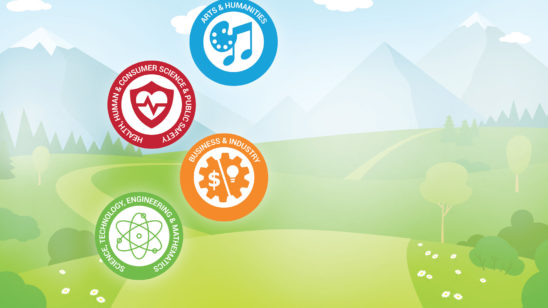 Previous Post