Professors not only teach classes and build curriculum, but they also cultivate a deeper sense of self by encouraging students to explore diverse perspectives from the world around them. It is through this teaching philosophy that the work of College of the Mainland sociology professor Luis Sabido shines.
A longtime educator, one of Sabido's earliest memories of education's impact began as a child growing up in Central America where he vividly remembers his parents teaching in Puerto Rico and Belize. "Growing up, I was surrounded by teachers in the family," Sabido explains. Through this unique cultural lens, Sabido acquired the acute ability to connect with people from every walk of life, a skillset that he brings to his classroom instruction today.
"I think the more diverse experiences you bring to the teaching profession, the more enhanced your instruction will be," Sabido said. "And that will lead you to be more creative in your teaching with your students."
It is this focus on diversity that drives his work at COM, where he spends countless hours helping students break down barriers, from taking classes as an ESL learner, to coping with transition from overseas service in the military or a parent's job loss.
"Diversity comes in different shapes and forms," Sabido said. "I need to know the student. I need to know that each student is different, that each student comes in with a different mindset in terms of past experiences. So I have to reach out to each unique learner so that I can comprehend each of their strengths and weakness."
In the classroom, Sabido is known for utilizing a real-world, hands-on instructional format in an effort to encourage students to see their peers from a humanistic point of view. To this point, he relies heavily on role-playing simulating scenarios where students can mimic situations that they may face later in life as they interact with people who don't look like them.
"That's why diversity is very, very important," Sabido explains. "Where students are able to put themselves in other people's shoes – people who perhaps don't look like them, don't speak like them. But they're connected to them in terms of their shared job occupation or shared interests."
Sabido began his instructional journey as a primary and secondary school teacher in Houston where he worked to inspire students to find their passions, especially those from marginalized and at-risk communities who did not have access to the same opportunities as other students. Since joining COM in 2004, he has continued to nurture that same philosophy through a range of community-based projects and initiatives.
One such initiative was a grant-funded family literacy program which Sabido helped to establish. Through the program, he has been able to purchase books to stimulate intergenerational literacy and encourage reading at home between community college students and their younger siblings. As Sabido explains, children who are read to will in turn be better positioned to succeed in their future educational pursuits.

"A lot of community college students have siblings at home, and we want them to share reading moments between their brothers and sisters, so that they learn good modeling behaviors that will help them when they attend our school in the future," Sabido said.

Always exploring innovative instructional strategies, Sabido was also deeply immersed in facilitating COM's participation in the North American Mobility Program, a government student exchange initiative between Canada, the United States and Mexico. Here, students had the opportunity to explore environmental sustainability issues within the three countries while gaining an appreciation of the cultures surrounding them.

Closer to home, Sabido has worked frequently with COM's multicultural team to bring guest speakers to campus to discuss literacy, racial injustices and other current social issues impacting society. His objective is to demonstrate to students how other people and perspectives construct their social world—a global skill necessary in today's job market. "In today's world, companies are seeking employees with global positioning skills," Sabido said.
While his work is expansive, Sabido's ultimate goal is simple – to foster a culture in and out of the classroom where diversity, empathy and humanity prevail.
"To be a human being. To have a sense of morality. To be a person who cares about the world. Because we all have a stake in this world."
Find Your Perfect Fit Here! →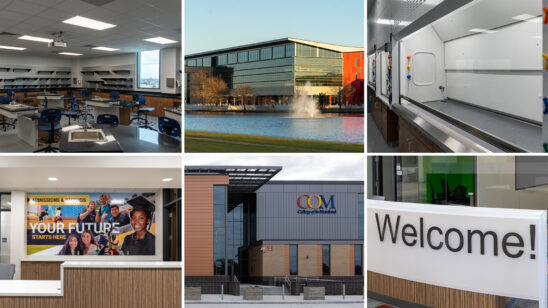 Previous Post